Day 3 was colder, but we still hit several local parks.


First up was Muskegon State Park which is right along Lake Michigan. The roads were essentially drifted with sand in places, but still passable. We hiked on the dunes and hiked out to the luge track at the Winter Sports Complex. Farther up US-31 was Duck Lake State Park.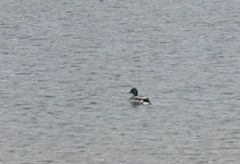 (That's literally a duck on Duck Lake.) We walked along a paved sidewalk that ran from the parking area to the lake front beach area.
Since the temp was starting to drop, we spent some more time driving around western Michigan, but didn't do much other than eat lunch and return to the hotel.
Friday night we were looking for someplace to eat within walking distance. We were going to settle for the resturant in the hotel, but we realized the City Cafe was in the Frauenthal Center just across the street. All I can say is wow. The food was great and the service was excellent, I'd recommend it to anyone who is in the Muskegon area, especially if you are staying at the Holiday Inn.
With snow and colder weather forecast for Saturday and Sunday, we decided to come home a day early. After driving through Gary and Chicago, we're glad to be back in central Illinois.