After our free continental breakfast at Holiday Inn Express and a short drive to Battle Creek, we spent an hour or so at Kelloggs Cereal City.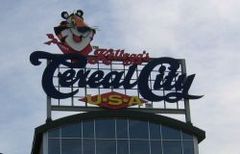 This really isn't an attraction for adults, but if we were 10, it would have been really cool. Lots of interactive exhibits, with loud noises and flashing lights. And a free box of Fruit Loops for each person at the end.
Next, after some interesting driving around downtown Battle Creek, we took off towards Muskegon on a nice little 2 lane highway. Driving across western Michigan is kind of nice, but they have some screwed up roads. The next stop was in Grand Haven, at a small state park that really isn't much more than a pier/lighthouse/breakwater, a strip of beach along Lake Michigan and a camper parking area. We walked out to the end of the pier, ignoring the warning signs about the danger of (non-existant) heavy surf washing us off and out into the lake.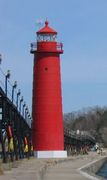 (Other pictures)
Tomorrow, we're hoping to hit a couple of local state parks, but the forecast isn't looking good, so we may just be wandering around looking for indoor things to do. And there's a chance of snow tomorrow night and for the rest of the weekend, good thing we brought the truck.