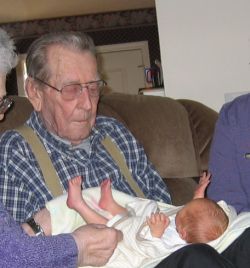 Rest in Peace, you will be missed.
E. KENNETH BETKA
HOOPESTON — E. Kenneth Betka, 87, of Hoopeston, died at 5:50 a.m. Tuesday, April 4, 2006, at Hoopeston Com-munity Memorial Hospital.
He was born April 11, 1918, in East Lynn, the son of Raymond and Amelia (Yerkey) Betka. He married Florence E. Nelson Sept. 20, 1946, in Granite City. She survives. Other survivors: three daughters, Sue Betka of Washington, D.C., Lois Betka of Skokie and Jean (Tom) Skoza of Champaign; a son, Bill (Melva) Betka of Cissna Park; three grandchildren, Corey (Alisha) Betka of Champaign, Rachel Skoza of Champaign and Warren Skoza of Champaign; a great-grandson, Robin Betka of Champaign; a sister, Margaret (Edgar) Hurliman of Martinton; and a sister-in-law, Lillian Betka of Hoopeston. He was preceded in death by a son, Robert, his parents, twin brother, Keith, and a sister, Frances Hurliman.
Mr. Betka served in the U.S. Army during World War II. He then farmed in the East Lynn area before retiring in Hoopeston.
Funeral service: 11 a.m. Friday, April 7, 2006, at Hamilton-Orr Funeral Home, 427 E. Main St., Hoopeston; Officiating: Rev. Janet Eggleston; Burial: East Lynn Cemetery with military rites by Cissna Park American Legion Post 527; Visitation: 4-7 p.m. Thursday, April 6, at the funeral home; Memorials to the donor's choice.